California Carnivores
9/2003
California Carnivores, owner Peter D'Amato is one of the most respected and well known of all Carnivorous Plant Nurseries. California Carnivores it is open to the public year round, although Peter says to call ahead it the winter just in case. Peter D'Amato wrote what is considered the Bible for growing carnivorous plants, The Savage Garden. The Savage Garden is a must own for any new CP grower. I arrived at California Carnivores before the Nursery opened and I stayed until after it closed. If you are ever near Sebastopol in Northern California it is a must see.
Cooks Carnivorous Plants
9/2003
After I saw the wild Darlingtonia and Pings we drove to Eugene Oregon to meet Dean Cook of Cooks Carnivorous Plants. Cooks probably has the largest selection of carnivorous plants for sale in the USA. He specializes in the hybridization of Sarracenia and has many unusual varieties for sale. He also has a wide selection of Nepenthes and Drosera at great prices. Cooks is open to the public by appointment only so make sure to call ahead.
Brooks Garcia's Sarracenia
6/2005
www.hometown.aol.com/atlfinegardens/
Brooks Garcia is very well know in the carnivorous plant world for his generosity and the beautiful Sarracenia he cultivates. A few years ago he discovered and named a beautiful S. x moorei cultivar he called S. 'Leah Wilkerson' he named it after the woman who owns the property that it was found on. S. 'Leah Wilkerson' is now one of the most sought after of all Sarracenia. Brooks grows his most of his CPs out doors in some very neat potted bogs and containers. I was fortunate enough to visit his growing area and came back with some very nice photos including some of his S. 'Leah Wilkerson'.
Atlanta Botanical Gardens
6/2005
www.atlantabotanicalgarden.org
The day after I was at Brooks I headed down the street to the world famous Atlanta Botanical Gardens. I had emailed the gardens carnivorous plant caretaker about a month before, asking if they ever give behind the scenes tours of the greenhouse. They emailed back and said that they would be happy show them to me. I got to the gardens just before they opened and meet Nannette Reese. She was more then helpful and gave me a two- hour tour of all their carnivorous plants and even a world-class frog room. They propagate hundreds of Sarracenia to put back in the wild to try and help repopulate them in their natural habitat.
Henning Von Schmeling
6/2005
At about 1:30 I left the Atlanta Botanical Gardens and headed up to Henning Von Schmeling. He is about an hour and a half from the Botanical Gardens at the Chattahoochee Nature Center. When I arrived he led me to the greenhouse where he had many beautiful Nepenthes hanging from the rafters. He was also working to breed giant varieties of Venus Flytraps, the biggest he has so far is a variety he calls "B52". By this time my camera was running out of batteries so I was not able to take as many photos as I would have liked.
Jeremiah Harris
10-13-05
I took some photos of my highland greenhouse.
James Cokendolpher
4-2006
James Cokendolpher is located in Lubbock TX. He was wonderful to meet and talk CPs with and he showed me his greenhouse filled with Nepenthes and other exotic plants. James is involved in the Nepenthes Clipeata Survival Project.
ICPS Conference 2006
6-2006
The ICPS Conference was unbelievable, I meet so many of the greatest CP grower in the world. My N. jacquelineae took best of show.
Meadowview Biological Research Station
6/2005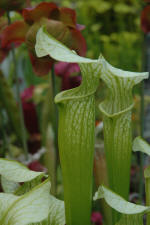 On the last day of the ICPS Conference we stopped by the Meadowview Biological Research Station and Phil Sheridan gave us a wonderful tour of his growing facilities.
Chuck Lyon
6-2006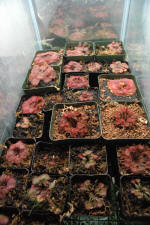 Chuck is a local grower and specializes in tropical Drosera. He has some of the nicest Sundews I have ever seen. He grows most of his CPs in a room dedicated to the tropical verities and he has dozens of aquariums filled to the brim with CPs.
Steve Duggins
3-2007
I have known Steve for quite a few years and we have traded plants several times. When I told Steve I was going to be in Southern California a week or so he mentioned that it would be fun to drive around to all the local Nepenthes collections. Steve even offered to drive to all of them. I got to Steve's house at about 7am knowing that we would have a lot of collections to see that day. First Steve showed me his collection, he grows most of his plants outside on his patio and in terrariums and shelves. In the front of his house he has a lowland lean-too grow chamber, he also has quite a few terrariums indoors. After a few hours of chatting and looking at his plants we headed to San Diego to see Mike.
Mike Ludwig
3-2007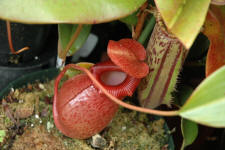 Mike and I have trade plant a few times and I have always been in been in awe of his spectacular plants that I have seen photos of. When Steve and I arrived I was just speechless, these photos really don't do the plants justice. Mike was just wonderful to talk to, he even had a cooler full of cold drinks and snacks for us. I don't really remember how long we were there but it definitely went by to fast.
Nate
3-2007
After Mikes place Steve and I started back to LA. Nate is just a little north of San Diego. Nate grows most of his plants on an enclosed patio and a large lowland grow chamber in his room.
Huntington Botanical Gardens
3-2007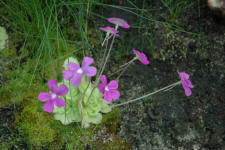 Steve and I left Nate's and set our course to the Huntington Botanical Gardens in Pasadena. LACPS member Warren Auyong just so happens to have a sister that works there so she put us on the guest list. Thanks again Warren! The HBG has a very nice room dedicated to CPs. Leo Song from CSUF donated most of his Nepenthes to the HBG but most of them are kept behind the scenes. Next time I go I will try to contact them ahead and see if they would give me a privet tour.
Joel Stern
AKA Nepenthes Around the House
3-2007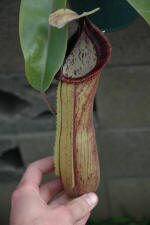 I believe it was about 6:00pm by the time Steve and I pulled into Joel's place. What a collection to end our days tour with. If you don't know Joel grows all of his plants literally around the house. He first led us into his bed room which had a very large south facing window where he grows most of his lowland plants and plants a few delicate Nepenthes such as N. clipeata and a small N. edwardsiana. Then Joel took us to his back yard which had hundreds of Nepenthes, I started snapping photos as fast as I could. Joel said his plants were hit by a hard frost back in January and as you can tell some plants took it harder then others. By this time is was starting to get dark so Joel led us into his computer room where he has a collection of CP stamps and framed N. edwardsiana pitcher.
Noah and his brother Peter Elhardt
3-2007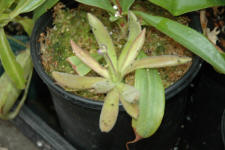 I meet back up with my family somewhere just north of LA. I then called up Noah and asked him if he knew of a good spot to camp, without hesitating Noah said my family was welcome to come to their place for the night. We got to their house at about 10:00pm. Noah's family was wonderful to us and we even ended up spending the next night with them. For some reason I never connected Peter (rubrarubra on the forums) as being Noah's brother, don't know how I missed that. They have a very nice collections of CPs and even sent me home with an awesome U. humboldtii. Thanks again guys for your wonderful hospitality.
Ed Read at CSUF
3-2007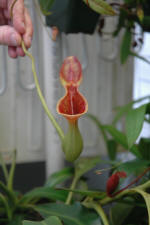 The next day Noah went off to work and our family left to see Ed Reads collection at California State University, Fullerton. I gave Steve Duggins a call before we got there, he only live a few miles away and was going to meet up with us. When I arrived I met Ed and Steve and a surprise guest Ivan Snyder. They were all wonderful I to talk to. As most of you know Ed and Ivan and are very respected in the CP community, it was a dream come true to pick their brains for a few hours, I learned so much. Ed sent me off with some really nice Nepenthes cutting and even a Catopsis. Ivan showed me how to start a fire the old fashion way, by rubbing two sticks together using a bow. He gave me some sticks to practice with and my bother (Levi) and I were actually able to start our camp fire with them a few days later.
Forbes Conrad
3-2007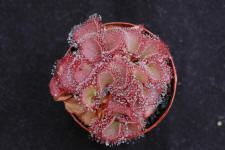 After saying good by to Steve, Ivan and Ed we headed back to Noah's place. We got back a little after 4:00pm and Noah, Peter, Levi and I left to go see Forbes Conrad's Collection. Forbes lives only a few miles from Noah's house so we were there in no time. Forbes plants were unbelievable, everyone of his plants looked like the could be on the cover of the CPN. Ed told me whenever he has a rare plant that is not doing to well he give it to Forbes and in no time at all he has ten of them. After taking over 1500 CP photos in the past 48 hours my camera was running out a batteries or I would have taken 4 or 5 times as many photos here.
Andrew Broome

9-18-2008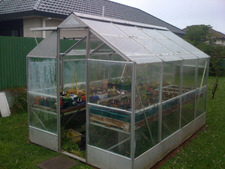 I was able to get in contact with Andrew a few weeks before I left for New Zealand. Since I did not have a working cell phone when I was in New Zealand I was not sure if we could get in touch on such short notice . Andrew was great, I gave him a call when I arrived in Palmerston North. Andrew was taking his Sister out out to dinner and invited me along. We all had a great time at an Irish Pub and even won at the weekly trivia contest. The first round even had a question about Utricularia so we knew it was our night. Andrew let me crash at at his place for a few day I was able to get some great photos of his collection but they were all lost in my hard drive failure except the ones I took with my iPhone. Andrew also took me to see some wild populations of Drosera auriculata but they were lost as well.
Don Grey

9-22-2008
Don Grey is a Sarracenia collector in Auckland New Zealand. Don was was great to to invite me to his greenhouse and give me a tour of his large greenhouse filled with Sarracenia just coming out of dormancy.
Greg Bourke

10-19-2009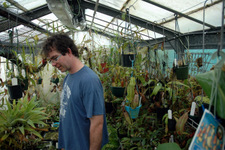 I flew back from Exotica Plants and Met up with Stew and his girl friend Karen at Darling Harbor. After I met up we Stew we drove to Greg's place in Wollongong. When we got to Greg, he had a good old fashion Aussie BBQ.